Commercial Drain Cleaning Services
Gopher Sewer & Drain offers commercial drain cleaning services to businesses throughout the Minneapolis & Twin Cities Metro. We are fully insured for commercial operations and provide same day service, routine maintenance contracts and emergency drain cleaning service. Whether big or small, Gopher has the skill and expertise to deliver your business fast, reliable, and effective service.
Having been a commercial drain cleaning company in Minneapolis for over 10 years now, we understand that in business, time is money. We would like to save your business both by providing you fast, dependable service at a great price. Whether you are looking for routine maintenance to keep your business running smoothly and predictably, or need someone prompt and dependable for those unexpected emergency situations, Gopher is your solution.
Gopher provides a wide range of services designed for commercial businesses at competitive prices. We focus on developing strong relationships with our commercial clients that stand the test of time. We know that for businesses it is important to have "go to guys" for inconvenient problems that affect your bottom line. We like to be those guys, and keep your business running at full capacity at all times.
Drain Cleaning Industries:
Services
Area drains
Bar drains
Basement drains
Bath sinks
Bath tubs
Camera Inspections
Catch basins
Dishwasher lines
Down spout drains
Drywells
Floor drains
Frozen pipes
Garage drains
Grease lines
Indirect waste pipes
Kitchen sinks
Laundry drains
Leach lines
Light Plumbing Repairs
Perimeter drains
Pool skimmer lines
Roof drains
Shower drains
Soil stacks
Storm drains
Toilets
Trench drains
Urinals
Products & Equipment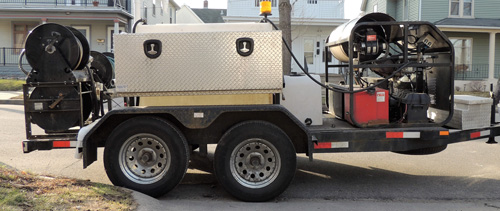 Drain Augers and Cables
Commercial Strength Hydro Jet Machines
Sewer & Drain Cameras
Drain Cleaning Solutions
Hydrojet Equipment
Gopher Sewer & Drain is equipped with the newest, cutting-edge high pressure water jets to clean the toughest commercial drain lines. Water jetting, or hydro jetting, is the quickest and most reliable method to not just unclog, but fully clean lines that are obstructed by high volumes of grease, sludge, sediment, or tree roots. Traditional cables restore the flow in pipes by basically punching holes through clogs. This is effective for small clogs or single obstructions, but it is not ideal for industrial lines that see heavy traffic. Hydro jets utilize hoses with specific nozzles that direct water at an extremely powerful velocity throughout the walls of pipes. The pipes are scoured clean by this high pressure stream of water, leaving them virtually like new. Our hydro jets operate with both cold and hot water pressure, making frozen lines from our cold Minnesota winters a non-issue. Call Gopher today to discuss your commercial drain cleaning options.
Gopher Preferred Services
Gopher Preferred Services are reserved for commercial clients who desire not only a customized preventative maintenance plan, but immediate preferential status for emergency service calls. With a preferred vendor contract you receive all the benefits of regular maintenance with the added bonus of guaranteed, immediate service, should an emergency arise. This means you are guaranteed to be at the front of the line, day or night, 24/7. Call us today to discuss setting up your Gopher Preferred Services account.
Contact Us
What Our Customers Say
"Both Pedro and Miguel have come to our house! They are quick and explain what the problems are and solutions! When we have needed service they have come right away or scheduled a time that works for us. I would highly recommend them to anyone! I have found our plumber for life!

Katie, Newport, MN
"I called Pedro on a Friday night at 6pm during the Covid-19 pandemic with a floor drain backing up anytime water was used in my house. Miguel was at my house at 8am on Saturday morning and used an auger to clear my main sewer line. Pedro ended up having to come too because my house sits back from the street and they needed more than 100ft of cable to reach the clog. They were able to clear the line and replace the corroded cap in 2 hours and everything is draining great now. They were friendly, efficient and knowledgeable. Highly recommend them for service in the Twin Cities and will call them again if I ever need service. It was cheaper than expected so that was great too. I'll be getting my line scoped later this summer and will be using GSD."

Dave, Minnetonka, MN
"Miguel has been to our house multiple times over the years and each time is on time, helpful, and efficient. The first, in fact, was an emergency call on Thanksgiving. Prices are reasonable and you definitely get what you pay for. Strongly recommend for someone looking to avoid the big names and go with a local company.

Jon, Minneapolis, MN
"Pedro responded quickly and did a thorough and effective job resolving our clogged drains. We had a different plumber out to fix the same problem a few weeks earlier. That plumber snaked the drain, and that helped for a short time. Pedro soon figured out that the line from the kitchen was majorly clogged from years of use, and it had to be blasted with water. Simply snaking it was a waste of time. He also replaced a smaller line with a larger one. The amount of gunk he cleaned out was amazing. The money spent on the first plumber was a complete waste. Gopher wasn't cheap, but I feel like Pedro correctly diagnosed and fixed the problem.

Thomas, Roseville, MN
"I called Gopher Sewer & Drain to clean out my clogged sewer. They came quickly and cleaned out over 3 lbs of tree roots. They were very careful of my carpet in my basement, cleaned up everything and took it all away. I will call them again when I have a problem."

Nicole, Richfield, MN
Previous
Next