Residential Drain Cleaning Services
Gopher Sewer & Drain provides fast and reliable service to resolve drain problems in your home. We understand that sewer line backups and clogged drains are stressful, inconvenient and can happen at any time, day or night. We want to solve your problem quickly, effectively and at a price you can afford.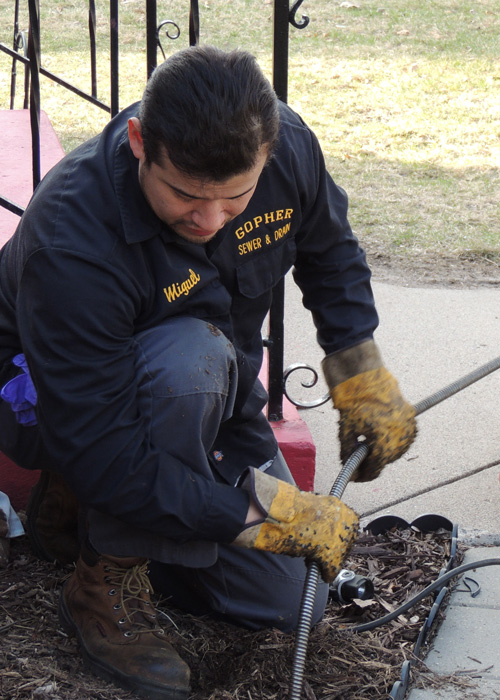 If you are experiencing a clogged main sewer line that is affecting all the pipes in your home, or simply a shower that just won't drain or a toilet that won't flush, here at Gopher we have the tools and the know-how to quickly fix the problem so that you can get on with your life. We provide free, upfront quotes and an honest explanation of the problem at hand, so you can feel confident you are receiving the correct service at an affordable price.
We provide a variety of home drain cleaning services and maintenance options so that you can choose what will work best for you. Often there is only one way to get that toilet unclogged, while other times there may be various options available to address your problem. For example, a cable will often get the job done to clear a routine main sewer line clog. Other times, your line may be so full of tree roots or sediment build up that you may opt for a high power hydro jet cleaning to really scour out your line and leave it like new again.
Don't have emergency drain cleaning needs today? We also provide routine maintenance cleaning of your drains and sewer lines to prevent problems from occurring in the first place. Are you a new homebuyer? We can run a camera inspection of the pipes in your prospective home to make sure you are aware of any potential problems and avoid any inconvenient surprises.
No matter what the problem, Gopher has a solution that will work for you. We provide free quotes, upfront pricing and guaranteed work to leave you with the peace of mind that your problem has been resolved in the most effective manner. For honest, reliable service, call Gopher Sewer & Drain 24 hours a day, seven days a week.
What Our Customers Say
"I recommend Pedro to everyone who asks. 1st of all he's the nicest guy ever. Secondly you feel like you're getting a fair price when you use him for a job. He actually came to my house one time and as I had a problem he couldn't fix, he left without charging me a dime. I offered to pay him for his time and mileage but he refused to take my money. It's not often you find that integrity in today's world. It's not fun to have to call a plumber, but Pedro will make the process less painful."

Kristin O., Minneapolis, MN
"Had a drain backing up and was tempted to deal with the problem myself...glad I didn't! Gopher was able to quickly dispatch someone to come out and assess the issue and within an hour had everything back to normal! Pedro was extremely helpful and courteous throughout the whole process. Will use again and would recommend them to anyone. Thank you!"

Cody J., St. Anthony, MN
"I called Gopher Sewer & Drain to clean out my clogged sewer. They came quickly and cleaned out over 3 lbs of tree roots. They were very careful of my carpet in my basement, cleaned up everything and took it all away. I will call them again when I have a problem."

Nicole, Richfield, MN
"I had a clogged sink and I called Gopher Sewer & Drain. They came out promptly, diagnosed the problem and cleaned my drain. The service was prompt, they were careful around my kitchen and cleaned up everything. I will use them again."

Tom & Julie, Minneapolis, MN
"Pedro came out the same day, fixed our plumbing issue, and probably saved us $1000 by recommending the right fix, not fixing unnecessary plumbing like most companies try to do."

Justin H., Minneapolis, MN
Previous
Next