Professional Drain Cleaning Service for the Twin Cities Metro
Gopher Sewer and Drain is proud to offer professional drain cleaning services for both residential and commercial customers. There are many different ways that pipes can become clogged, but we have the tools and the know-how to get them working again. A few of the most common problems that we address for our customers include:
Professional Drain Cleaning Service
Tree Roots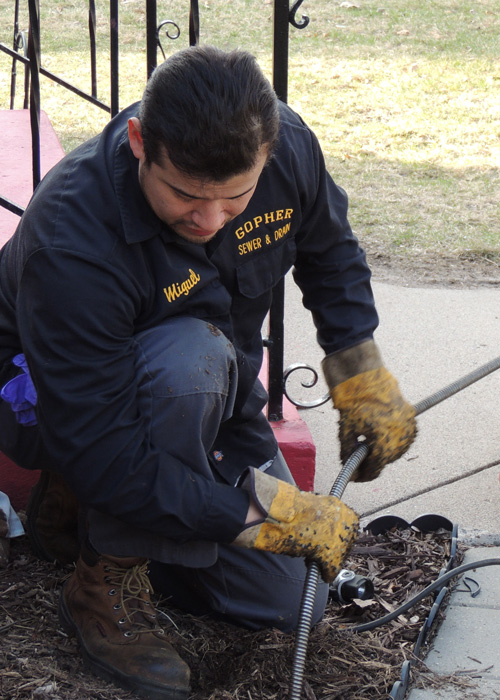 Tree roots can crush or grow into sewer and drain lines, creating cracks and breaks in pipes and clogging them up fast. Many older homes with concrete and clay pipes are especially susceptible to tree root intrusion and damage. Once cracked, dirt and sediment can leak into the line creating further problems.
Bellied Pipes
A bellied pipe refers to a sagged, dipped or sunken drain or sewer line. These depressed areas create pools of stagnant water, waste and toilet paper that can result in a clog and back up. Bellied pipes can occur due to shifting or unstable ground, improper plumbing installation or construction, and improper grading.
Grease, Food Particles, Soap & Hair
Most households will run into a clogged drain at some point due to these common culprits. Kitchen lines often become congested with grease and food particles, as well as soap scum build up. Bathroom drains often are clogged with hair and soap that congeal over time into stubborn blockages.
Clogged Toilets
The only thing that should go down your toilet is human waste and toilet paper. Feminine hygiene products, baby wipes and paper towels belong in the garbage can. Toilet paper is constructed to dissolve when wet, while paper towels and feminine hygiene products are made to expand - they will quickly clog up a toilet. Of course, every once and awhile a toddler will send some unlucky toy for a swim….but we can take care of that too.
Frozen Pipes
This is a big one here in Minnesota. Our sub-zero temperatures can cause water to freeze in pipes where it expands and causes them to burst. If you suspect you have a frozen line it should be addressed immediately, or you could have some major property damage on your hands.
A Note About Drano
We do not recommend using Drano in any of your drains. Drano is toxic, caustic, and will damage your plumbing. The chemical combinations in Drano are unsafe for your body, the environment, and our technicians. This isn't a ploy to get your business - we promise. Run a quick google search and weigh the risks for yourself.
Why Choose Gopher?
Local, family owned & operated
Up front, affordable pricing
Estimates
Guaranteed work
24/7 Service
Gopher Sewer & Drain is fully equipped to take care of all your drain cleaning needs. We utilize traditional cable machines, state of the art video inspection systems, and high power hydro jet machines to clear even the most stubborn blockages. We will put our experience and expertise to work and leave your drains clear and working like new. For honest, reliable service you can depend on, call Gopher today.